Jaguar accessories Homer Glen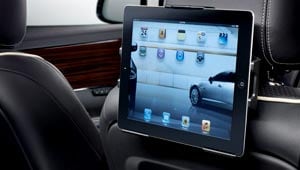 Buying a Jaguar is one of the best moments in anyone's life. But beyond the luxury and beyond the performance, there are always available accessories to add to the experience. So, regardless of the model, when you configure your Jaguar the freedom is always there to equip it to fit your style and personality. The Jaguar model accessories in Homer Glen take your new Jaguar to the next level.
Starting with the Jaguar XF, this luxury sport-saloon has an impressive list of accessories. Take the exterior to the next level with the Aerodynamic Pack: front and rear spoilers, side sills, and redesigned front bumper give a sleek performance silhouette. A Rear Valence Diffuser adds to the exterior savagery. If bling is more your thing, equip the chrome side vents, side-mirror covers, illuminated sill treadplates, and tailpipe finish. The latter along with hood louvers and luggage compartment finishers are available in carbon fiber as well.
The Jaguar XJ, a full-size luxury sedan, has available iPad holders for placement in various parts of the vehicle, a headrest-mounted coat hanger, premium carpet for the luggage compartment, and a leather topped gear selector for an added touch of style in Homer Glen.
Jaguar's high performance XK model has available accessories built to accent it's power. Carbon fiber is plentiful: side mirror covers, trunk-lid finisher, hood louvers, and side power vents are all available in the lightweight material. Bring a little shine wherever you go with available chrome accessories such as chrome-straked bonnet louvres, side mirror covers, polished tailpipe finishings, and styled valve caps. Wheel center caps, sport pedal covers, alloy wheels, black or chrome grill sets, and XK-R side decals are available to take the appearance even further.
Lastly, the flagship sportscar at Jaguar, the F-Type finishes the list with exceptional accessories. With side mirror caps, roll hoops, side power vents, and hood louvers both available in chrome or carbon fiber, customize your F-Type however you'd like. Push the carbon fiber a little further with a front splitter, rear diffuser, engine cover, and center console trim. The exterior can be changed with the Design Pack, adding a body color front bumper, side sills, gloss black rear valance, and front splitter. Upgrades to the braking system are also available.
We always hear that it's the little things in life that make it all worthwhile. Jaguar of Orland Park couldn't agree more. Take advantage of the available accessories, make the little things count with your Jaguar in Homer Glen. The finishing touches on your new Jaguar model say a lot about you, but it's you who decides what exactly it is they say.