2014 Jaguar F-Type convertible vs 2014 Chevy Corvette Stingray convertible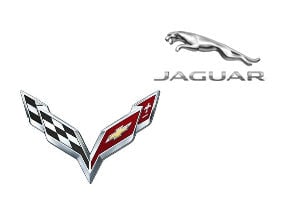 Jaguar has been known for its luxury sports car design that makes people feel like they are on top of the world and they could do anything. One of these cars is the convertible. It has been iconic as the car of choice for super spies and spoiled rich kids alike. Convertibles are still a sign of wealth and power as shown by two new models, the 2014 Jaguar F-Type convertible vs. 2014 Chevy Corvette Stingray convertible. These cars may look similar, but they have many features that set them apart.
The 2014 Jaguar F-Type convertible has a four pipe engine exhaust and allows you to chose from three engine options. It has an eight-speed automatic which helps it lock into corners and makes steering almost effortless. It weighs 464 pounds more than the Corvette, but still manages a slalom speed (the speed at which a car can travel around a curving course) of 48.3 mph which is only .4 mph less than the Corvette. The Jaguar also has a gorgeous exterior that would make even James Bond jealous.
The 2014 Chevy Corvette Stingray comes in wearing its game face with comfortable leather seating and aluminum trim., but it isn't able to compare to the Jaguar with only a six-speed automatic and slow shift speed. It might have a comfy interior, but that doesn't make up for its lack of performance, which is a much more important feature.
Overall, when it comes to the 2014 Jaguar F-Type convertible vs. the 2014 Chevy Corvette Stringray, the Jaguar might be a little more expensive but it has a better performance, a more stylish exterior appearance, and a much better steering reaction. To check out the 2014 Jaguar F-Type for yourself, test drive it at Jaguar or Orland Park near Mokena, IL.