Jaguar Named Top Brand in New J.D. Power Study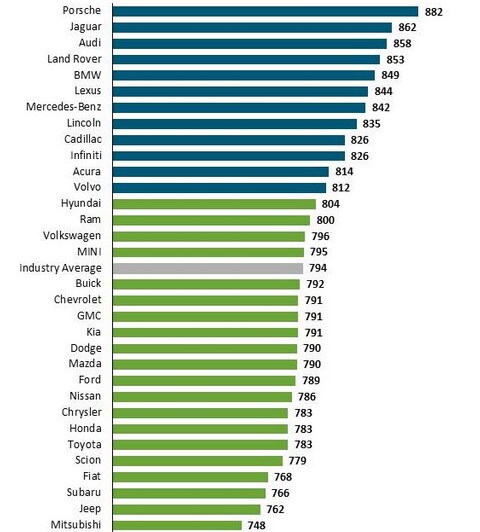 Here at Jaguar Orland Park, we know that our vehicles are quality. We spend six out of seven days with our Jaguar vehicles and have the opportunity to see them in action every single day. If you're familiar with our dealership, you likely know that we brag about all of the models in our inventory on a daily basis, but it goes in one ear and out the other with many of our customers who feel that we talk up our vehicles simply because we have to in order to sell them. That is simply not the case, and we have evidence to prove it.
A little less that a month ago, Jaguar was Named Top Brand in a new J.D. Power Study which looked at 32 different companies and ranked them based on the quality of their products. Jaguar has made the list before, but this year's recognition is especially exciting as the luxury automaker has moved up a couple of spots on the list. Last year Jaguar took eighth overall, but with the newest set of vehicles released last year, the automaker now inhabits the second spot, which is two ahead of Land Rover's fourth-place spot.
Earning a top recognition in the J.D. Power Automotive Performance, Execution and Layout (APEAL) Study is one of the highest honors that an automaker can earn. The APEAL study has been going on for a total of 19 years, and has helped to better measure the overall appeal of today's vehicles, especially when it comes to aspects such as fresh technologies and features that continue to find their way into the newest vehicles on the market.
To help determine exactly where some of the luxury automakers out there stand, judges of the APEAL Study look at 77 different attributes and score the brand on a 1,000-point scale. This year, Jaguar moved up 23 points, for an overall score of 862. The rating is just 20 points off from Porsche, which is the brand that secured the top spot. We hope to see the luxury brand move into the number one spot next year.
If you are interested in learning exactly how Jaguar was able to move up so high on the list, we suggest that you check out the rest of our blog where you can learn more about the new and upcoming Jaguar vehicles that have helped to reshape the brand over the last year. You can also schedule a test drive so that you can experience the award-winning Jaguar vehicles for yourself. That way you'll understand why we can never stop talking about the vehicles that we sell at Jaguar Orland Park near Oakbrook IL.